Wayne Hamilton and Mary Reynolds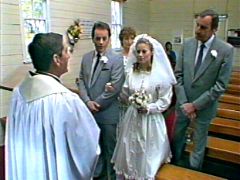 Mary Reynolds comes into the Hamiltons' lives after turning up at Woombai claiming that Patricia is her mother. Everyone - Alison Carr especially - denies this. However, Alison - and, later, Charlie - know the real truth: Mary is her daughter and Gordon is her father. Wayne proposes to Mary when she wants to help Gordon after he loses Woombai to his brother, James: Mary learns that she will inherit a large amount of money when she marries, and so Wayne suggests that they could marry and pass the money on to Gordon. The wedding goes ahead and Mary unknowingly marries her half-brother. Fortunately, Mary is shy about sleeping with Wayne, so they haven't consummated the marriage when Alison admits to Mary a couple of days later that she is Patricia and that Gordon is her father. Once the shock has worn off, legal proceedings begin to annul the marriage.
---
Tim Palmer and Donna Jackson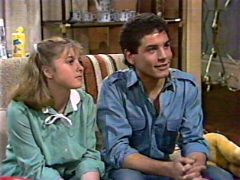 Donna Jackson - Brett Keegan's girlfriend - turns up at Beryl's when Brett is staying there and tells him that she's pregnant to him. Brett, however, makes it clear that he doesn't want to know. Tim Palmer is shocked by Brett's behaviour and he quickly starts spending time with Donna to make her feel better. They have only known each other for a few days when Tim proposes to Donna - and she accepts. They move away to Ararat, where they marry. They return to Melbourne a few months later for Leigh Palmer's funeral, and Tim admits to Fiona that he doesn't love Donna, but he does care for her.
---
Neville Curtis and Celia [surname unknown]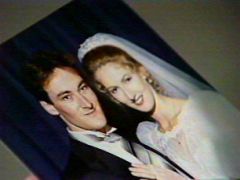 Neville Curtis breaks Janice Reid's heart after he discovers that she's in love with him and has to reveal that he has a fiancée, Celia, back home in England. A few weeks after Neville says goodbye to Janice and the residents of the mansion, Fiona receives a copy of Neville and Celia's wedding photo.
---
Wayne Hamilton and Susan Palmer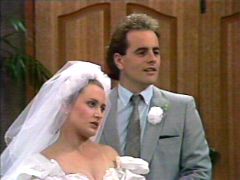 After her first husband, Bill Todd, is killed in prison, Susan Palmer becomes involved in a love triangle with Wayne and Glen Young. Wayne, however, uses a multitude of dirty tricks to discredit Glen and make him look like a love rat in Susan's eyes. Susan eventually agrees to marry Wayne, but Wayne has to arrange for Glen to be kidnapped on the day of the wedding to stop him turning up with evidence that would prove Wayne has been lying. Glen manages to escape and he makes his way to Dural. He forces Susan to listen to what he has to say, but because Wayne's henchmen have stolen his evidence, he can't make Susan believe he's telling the truth. Susan goes ahead and marries Wayne - although she still holds a light in her heart for Glen. Sadly, the marriage heads for disaster, as Susan finds herself unable to cope with Wayne's controlling nature and his insane jealousy. She fakes suicide twice, and only lets Wayne know she's alive after Alison pleads with her to help; Wayne has taken everything away from Alison and left her in the gutter. The game is a dangerous one, sadly: Wayne later spots Susan creeping around in the grounds at Charlie's, he grabs her, drags her back to Dural and murders her.
---
Gordon Hamilton and Beryl Palmer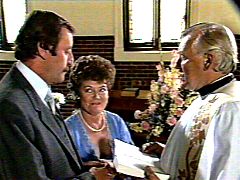 Following Gordon Hamilton's split from Barbara and Beryl Palmer's decision not to remarry David, both Gordon and Beryl find themselves feeling somewhat lonely. While Beryl is staying in Sydney after discovering that her daughter, Susan, has committed suicide following her involvement with Wayne - although this later turns out not to have been the case - she and Gordon spend time together and it becomes clear that they share feelings for each other. Gordon proposes marriage, but Beryl turns him down on the grounds that she couldn't live in the same house as Wayne. When Gordon offers to send his son away, Beryl agrees to marry him. The two of them subsequently move to live in Beryl's house in Melbourne and the wedding ceremony takes place in a nearby church.
---
Doug Fletcher and Caroline Morrell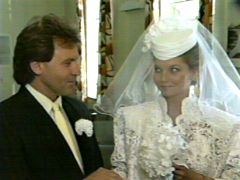 After a long courtship and an engagement that's on and then off and then on and then off, Doug Fletcher and Caroline Morrell marry finally in a Registry Office in Melbourne. Debbie and Craig act as witnesses.
---
Todd Buckley and Charlie Bartlett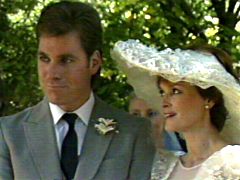 Charlie Bartlett meets Todd Buckley while she's staying at a health farm. The two of them fall in love quickly and Todd follows Charlie back to Sydney. Their relationship faces hostility from Alison, who's convinced that Todd is only after Charlie's money. Wayne takes advantage of this by drugging Todd and arranging for Charlie to catch him with another woman. Charlie is horrified when she catches Todd, and she quickly breaks off the relationship. Wayne then manipulates the situation so that the set-up is revealed, but he makes it look like Alison was behind it. Charlie and Todd resume their relationship and marry three days later, in Sons and Daughters' final episode.