Campbell House, Melbourne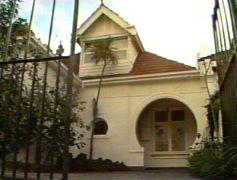 Residents seen on-screen: Rod Campbell, Jess Campbell, Doris Hudson, Spider Webb
---
Headquarters of Hamilton Industries, Sydney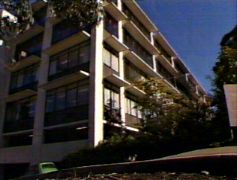 It's in this building that Wayne Hamilton, Caroline Morrell, Alison Carr and James Hamilton meet as the members of the Board of 'the company' - the shares of which change hands numerous times during Sons and Daughters' run, despite it never being revealed what the company actually does! It's revealed in Episode 729 that the company is called 'Hamilton Industries'.
---
HM Prison, Fairlea, Melbourne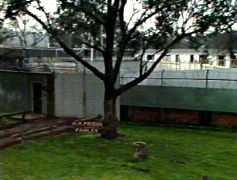 Leigh Palmer turns herself into the police after faking her own death, thereby skipping the bail she's on for kidnapping baby Robert. She's held here, at HM Prison, Fairlea, in Melbourne.
---
Brolga Hotel, Brolga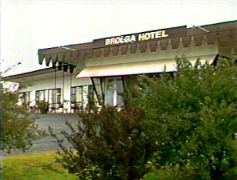 The hotel in Brolga where Wayne Hamilton and Mary Reynolds head (and Gordon and Barbara Hamilton also stay) after Wayne and Mary marry.
---
Brothel, Sydney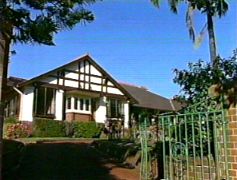 When Caroline Morrell turns up a lead on the disappearance of her missing daughter, Amanda, she tracks her down to this seemingly-innocuous house - which is actually the front for a brothel. Sadly, it turns out that Amanda has already moved on - but the madam, Bella Brixton, hires Caroline when she decides to try and gain a further lead by pretending to be a prostitute.
---
Mansion, Sydney (40 Burke Street, Rushcutler Bay, Australia)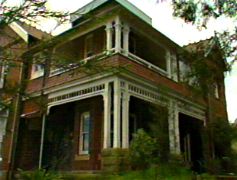 Wayne puts forward a plan to the Board of Hamilton Industries to buy this old mansion, his aim being to tear it down and put up new apartment blocks. His plan is scuppered by Alison Carr and Fiona Thompson. Fiona moves in and takes over as manager. In 1987, Wayne agrees that the place can be turned into a refuge for young people who have nowhere else to go.
Residents seen on-screen: May Walters, Fiona Thompson, Janice Reid, Glen Young, Andy Green, Caroline Morrell, Michael Benson, Baby Madonna, Tim Burgess, Penny Burgess
---
Hornsby Hospital, Sydney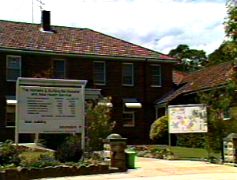 After Gordon and Barbara are involved in an horrific car crash with Caroline and Alison, they are both taken to Hornsby Hospital in Sydney for treatment.
---
Charlie Bartlett's Shack in the Hawkesbury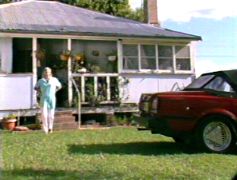 Charlie Bartlett owns this holiday shack in the Hawkesbury. When Wayne wants to spend some time alone with Susan Todd (née Palmer), he blackmails Alison to get her to ask Charlie if the two of them can use it. Susan turns out to be more interested in Glen than in Wayne, though, and Glen asks Charlie if he could buy the shack from her. She agrees and he and Susan starts making plans for the place - only for their relationship to then fall apart following manipulation of events by Wayne.
---
Seabreeze Towers, Sydney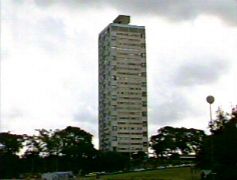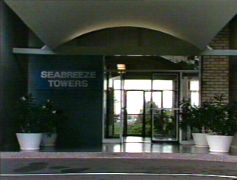 When Gordon is released from hospital after his and Barbara's accident, he decides he needs somewhere of his own to recuperate. The accident costs him a good part of his memory and leads to Barbara leaving him because he thinks he's still married to Patricia. He rents an apartment here in Seabreeze Towers to ponder his future.
---
Youth Centre, outside Sydney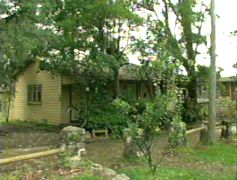 Wayne tricks Susan - who has fallen for Glen - into thinking that Glen is having a secret affair with a young woman, Maria Lopez, who he'd met in the Philippines. Glen decides to disappear, in order to find the evidence that will clear his name, and he spends some time hiding out at this youth centre.
---
Court House, Sydney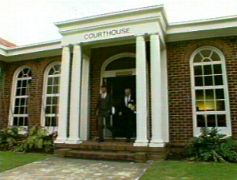 It's at this courthouse that Alison Carr and Caroline Morrell are sentenced for causing the car accident that left Barbara with serious facial injuries and Gordon with ten years of his memory missing. Alison is put on a good-behaviour bond and sentenced to one hundred hours' community service. Caroline is sentenced to a three-month spell in jail.
---
Orphanage, Sydney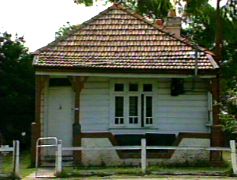 Alison begins her community service at this building. Inside, it's run-down and the walls are covered with graffiti, which Alison has to clean in preparation for it to be turned into an orphanage. It's here that she meets Ginny Doyle, a young woman sentenced for stealing and crashing her boyfriend's car after he walked out on her.
---
Ginny Doyle's Bus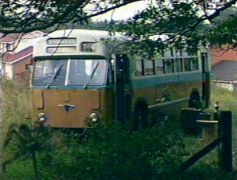 Ginny Doyle is living in this old bus until Alison arranges for the inside to be trashed when she's searching for a tape containing Maria's confession about Wayne's dishonesty towards Susan.